Burial options in New Zealand
Because your baby died before 20 weeks gestation, there are no legal requirements governing what you can or can not do in regards to burial. Neither the birth nor the death need registering, unless your baby weighs more than 400 grams or was born alive. Loss after 20 weeks is referred to as a 'still-birth' (SANDS.org.nz the support group) and in New Zealand requires registering as a birth and having a death certificate issued.
Burial
Hospital policies differ widely so when you wish to have your baby's remains kept for taking home, you will need to request them before passing your baby or they may be cremated along with others. Major hospitals usually offer paperwork to cover this. Sometimes staff do not understand the reasoning behind your request and could try and put you off, but it is your choice. You can bury your baby's remains wherever you choose. In about 60% of miscarriages the baby never develops and unfortunately can be so small it cannot be clearly identified.
Some parents choose a corner of their garden that is already special and bury everything without any particular marker others plant something to commemorate the spot. Consider choosing a plant or shrub you could take cuttings from should you ever move. If you live in a rental property or apartment, you can put a plant in a large pot suitable for a deck or balcony. Many choose a Peace Lily. It is worth considering that any plant may not thrive, which could add to your grief. If you are happy with the idea of a plant, it is your choice. Alternatively, a garden seat or water feature would be a peaceful commemoration.
For those who would prefer a permanent place to visit in case their circumstances change, most New Zealand cemeteries have a special burial area dedicated to miscarriages, stillbirths and babies under 12 months. If relatives are already buried at a cemetery a request could be made to have your baby interred (buried) in the same grave. One cemetery suggested a maximum size of around 610×800 for a container but check that out.
Most funeral homes offer containers or if there is a Sands group in your area they may have some also. You could always make your own. A firm base would be required in an adequately constructed and sealed container with perhaps a lining of plastic. It would need to be of wood or burnable material for a cremation. (Wood required for the most ashes.) For a formal burial, there is usually a standard cost for the plot, internment and sometimes a one-off maintenance fee. Search in yellowpages.co.nz or Google for 'Cemeteries' or 'Funeral Directors' for other NZ regions.
Cremation
You may choose to have your baby's remains cremated. Funeral directors usually have helpful information. Most cemeteries charge a crematorium fee. If you had an early miscarriage unfortunately there will only be around a tablespoon of ashes left after the heat of the cremation and most of that will be the wooden container.
These ashes could be placed in an urn set in a niche memorial wall, if available, or be buried. Most cemeteries have a garden area dedicated for the scattering of ashes. Alternatively they could be scattered at a place that is meaningful to you and your family along with a service as suggested in 'Ceremony and Naming'.
N.B. If you can't decide what to do, put everything in a sealed container in the fridge or freezer or, if that is not acceptable, take it to a funeral parlour and ask if they could cool store it for you until you have made up your mind.
Remembrance areas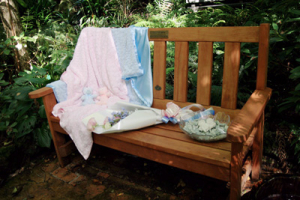 Some cemeteries have memorial walls, remembrance trees and/or a 'Book of Remembrance'. Manukau has a statue.
Miscarriage Support Auckland Inc. New Zealand have recently bought a seat at Eden Garden, 24 Omana Ave., Epsom (Ph 09 638 8395 & www.edengarden.co.nz) which was blessed on the 25th March, 2012 and is specifically for those of us who have nowhere to go to commemorate and remember our babies. Please feel welcome to visit and take time to honour the memory of you lost babies in a way that feels right for you.
Memory Garden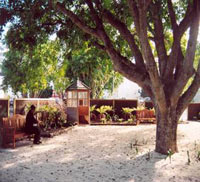 The Memory garden was opened on September the 4th 2004. It was built in consultation with National Women's staff and interested community groups such as Sands, Miscarriage Support Auckland Inc. and Twin Loss. Craig Scott from Twin Loss designed and built the garden.
The Garden was developed to provide a place for families to remember the women and babies who died at National Women's. As National Women's was leaving the Greenlane site it was considered important for the community groups and National Women's staff that a garden for remembrance be left behind.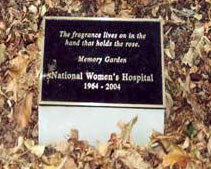 The plaque also commemorates 'The life of National Women's hospital 1964-2004, as the place where thousands of babies began their lives'.
The Memory Garden is located under the large walnut tree, which is situated between Greenlane Clinical centre and old National Women's hospital. The garden has a number of private seats with a view through Cornwall Park up to Maungakiekie. It is bordered by the Cornwall park cricket club on the east side and the public car park on the west.
Auckland Cemetery Information
Auckland City Council runs the following cemeteries and their online information re options and prices etc. is available on; http://www.aucklandcouncil.govt.nz/EN/parksfacilities/cemeteries/Pages/cemeteryfeesandcharges.aspx
N.B. There are various other smaller cemeteries in the Auckland greater area on the council's list if you are interested.
Manukau Memorial Gardens Cemetery & Crematorium, 357 Puhinui Rd., Papatoetoe, Auckland New Zealand
Ph: 09 279 8232 Fax: 09 250 0070. They have a 'Tree of Memories' which is made of bronze set on a brick wall which has bronze leaves that holds basic information, e.g. baby's name and date; There is a wall plaque with an allowance of up to 80 letters. There is also a scatter area called 'The Oaks'.
Waikumete Cemetery & Crematorium, Gt. North Rd., between Glenview & Awaroa Rds., Glen Eden, Auckland New Zealand
Ph: 09 818 5615 Fax: 09 818 8656. They have a 'Wall of Remembrance', space only and a plaque is extra and will require attachment as staff do not do that. There is also a 'Niche Wall' which holds 2 urns of ashes. There is a place for the scattering of ashes available at their 'Eucalyptus Glade' and a 'Book of Memories'. It is in front of the second chapel and is opened each day at the appropriate page for visitors.
North Shore Memorial Park & Crematorium, 235 Schnapper Rock Rd., Albany, Auckland New Zealand
Ph: 09 415 9646 Ext. 8020 Fax: 09 415 8609. There is a special children's area set aside for miscarried, stillborn and up to 12 month-old babies. Ashes can be scattered on request for. There is a 'Memorial Wall' where a space can be purchased. A burial plaque supplied separately will be attached by the staff.
Waikaraka Public Cemetery, 21 Waikaraka Rd., Onehunga, Auckland New Zealand
Ph: 09 636 7054.
This has a garden cemetery of baby plots for miscarriage, stillbirth and up to 12 month-old babies.  They do not have cremations but do accept babies to be buried in a current family grave.
Private Cemeteries
Mangere Lawn Cemetery and Crematorium, 85 McKenzie Rd., Mangere, Auckland NZ
Ph: 09 275 4822 Fax: 09 275 5459 (Trust Board owned, established 1890)
The managerial staff have a lovely caring, supportive attitude. There is an 'Oak Tree Garden' which is sprinkled with babies ashes that were in the past from National Women's Hospital – others on request. Tokens of remembrance may be left near the Oak Tree.
There is a memorial wall at another location within the cemetery grounds where a little ceramic plaque can be attached that can be purchased from the cemetery office; the poem on memorial wall says: A love in our hearts that time cannot sever, they remain, but as children forever and ever. Cremations are on request. There is also a burial area which is called the Children's Sanctuary. These burials are in identified plots and charged for. Memorials are permitted.
Purewa Cemetery and Crematorium, 4a Parsons Rd., Meadowbank, Auckland New Zealand
Ph: 09 528 5599 Fax: 09 528 5589
(Purewa Cemetery Trust Board.) There are no current charges for the cremation of a miscarried or stillborn baby. There is a special area set aside for the burial of miscarriages and stillbirths. Adequately constructed containers are acceptable (i.e. as in home-made) as long as they are sealed properly. We also have
a 'Memorial Wall' available down in the cemetery for a bronze plaque 

a seat in front of the chapel

 

there is a 'Granite Memorial Book' for a granite plaque

  

an angel figure where flowers can be left. The angel is for those who have had a miscarried or stillbirth baby buried there in the past and for those who perhaps do not know where their babies were buried/cremated or were unable to be saved for either.

a Mother and Baby Memorial granite plaque where all the stillborn babies were buried together. This may be added to.  
Auckland Memorial Park, 2163 East Coast Rd., Silverdale, Auckland NZ.
Sharon Christoffersen, Operations Manager.
Ph: 09 426 9383 or 0800 006688
Fx: 09 427 9345
Email: admin@ampl.co.nz
www.aucklandmemorialpark.co.nz
(Trust Cemetery) We are still developing the park with new areas, meeting family's needs (Privately owned). A plot & plaque can be purchased (price negotiable for miscarriages, stillbirths and babies under 12 months-old).
Morrison's Crematorium West, 220 Universal Drive, Henderson, Auckland 0610
Ph: 09 836 0029 (Privately owned).
Email:enquiry@morrisons.co.nz
morrisons.co.nz